TrustistTransfer is a game-changing solution for businesses that are seeking a hassle-free and cost-effective way to accept payments. Only just heading into their second year, the team at Trustist are extremely proud to be shortlisted for 4 different categories at the UK eCommerce Awards!
This innovative platform allows businesses to collect bank transfer payments effortlessly, whether it's through mobile phones, desktop transactions or even during face-to-face interactions by using a unique QR code or convenient PayLink. What's remarkable is that there's no need to share any personal details – customers can securely make payments without revealing their sensitive bank details!
The use of TrustistTransfer is straightforward and user-friendly. To make a payment, all you have to do is:
Input the transaction amount.
Choose between a QR code or PayLink.
Let the customer do the rest.
If you opt for a QR code, customers can simply scan it with their mobile device (even if they're starting their transaction on a desktop), whilst a PayLink allows for payment collection from anywhere – through social media, email, SMS, or other messaging services.
This flexibility ensures that TrustistTransfer is accessible and convenient for both businesses and customers, regardless of their location or preferred payment method.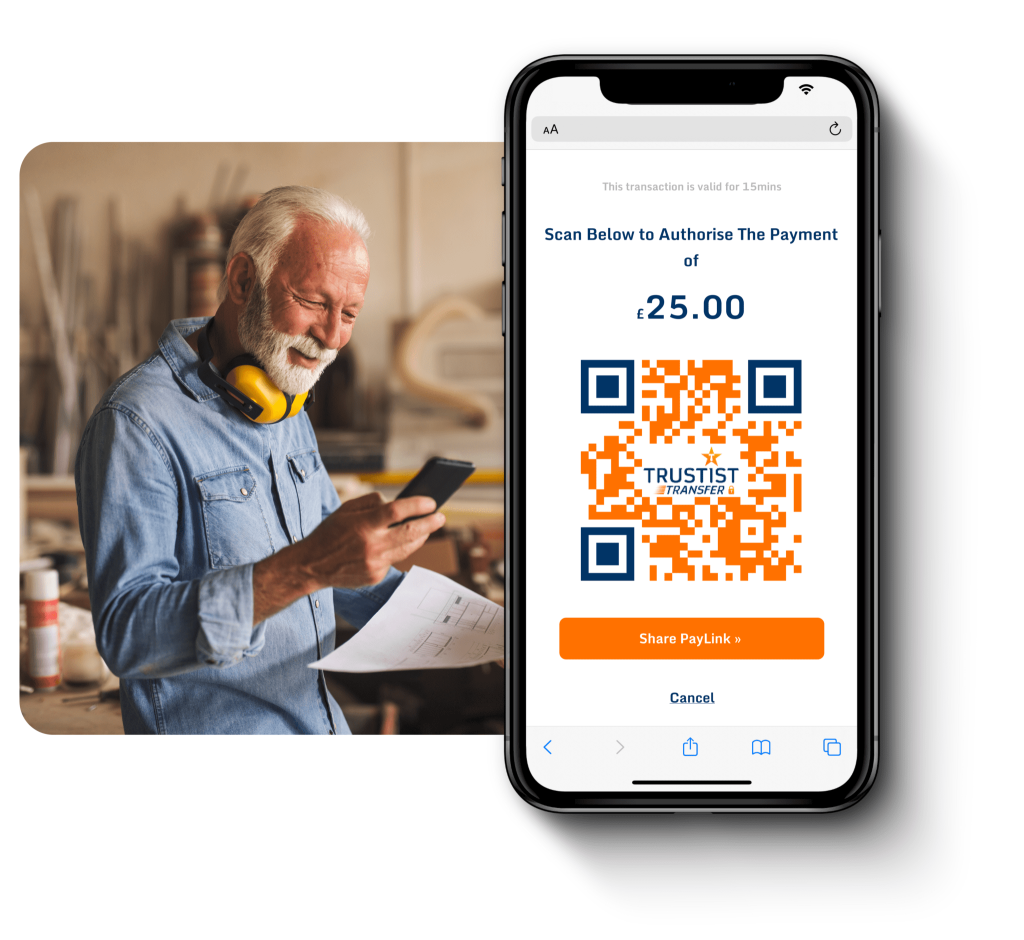 Will Lankston, Managing Director of Timpson Group, had this to say about the platform:
"TrustistTransfer is the smoothest Open Banking software I've seen!"
There are three main benefits for businesses using TrustistTransfer:
It's a money-saving solution. With transaction fees 90% lower than competitors, at the ultra-low rate of 0.29%, with no subscription fees – this translates into substantial savings for businesses and individuals.


TrustistTransfer simplifies the payment process, reducing the hassle of managing physical cards whilst streamlining the collection of all eCommerce payments through QR codes and PayLinks.


Increased security, with zero chance of chargebacks. The heightened security of Open Banking ensures that both businesses and their customers can carry out transactions without worry.
In conclusion, TrustistTransfer is a revolutionary platform that addresses the pressing needs of businesses and individuals in the UK. When speaking about the platform, Alison Dickinson of Little Voices said:
"Super efficient and user friendly! It's quick and easy – my customers have commented on this fact too."
After the work put in by the Trustist team over the last 12 months to create the TrustistTransfer platform, being finalists in several prestigious awards at the UK eCommerce Awards is a huge honor!