We are delighted to be shortlisted for the eCommerce Software of the Year award at the UK eCommerce Awards, amongst such a brilliant collection of businesses.
It particularly means a lot this year, as we transitioned to our new business name – Herdify. We've spent a lot of time listening to our customers to ensure that our brand encapsulates what we do… We're all about amplifying the herd; more on that later.
But really, to be shortlisted for this award is recognition of our customers' work, and the innovative ways that they have implemented our product, at a time that is fraught with challenges for our industry.
Our nominated work is a culmination of 15 years of research, and we think our solution is timelier that ever. A recent Shopify "Future of commerce" report highlighted three problems common to all ecommerce marketers right now: rising acquisition costs, more competition, and diminishing return on advertising spend.
These are three challenges that our product seeks to help our customers overcome. The key is in harnessing offline influence (herd behaviour) and word-of-mouth recommendations to target ad spend more effectively.
We work with marketing ecommerce leaders who are looking for new and profitable ways to target and retain customers. We detect where word-of-mouth conversations are happening about your brand, in places you can't traditionally measure (the pub, gym, WhatsApp etc).
Using Machine Learning, AI and behavioural science, we then take this powerful insight and convert it into recommendations on where to target your marketing activity – be that online advertising, influencer marketing, out-of-home or door drops.
The reason this is so powerful is that 95% of us believe in recommendations we've heard from friends and family rather than advertising, but most of those conversations are hidden in the offline world. In fact, 90% of all word-of-mouth (WOM) happens offline.
A word-of-mouth recommendation is far likelier to trigger engagement with a brand's marketing activity, because that customer has been primed by someone they trust.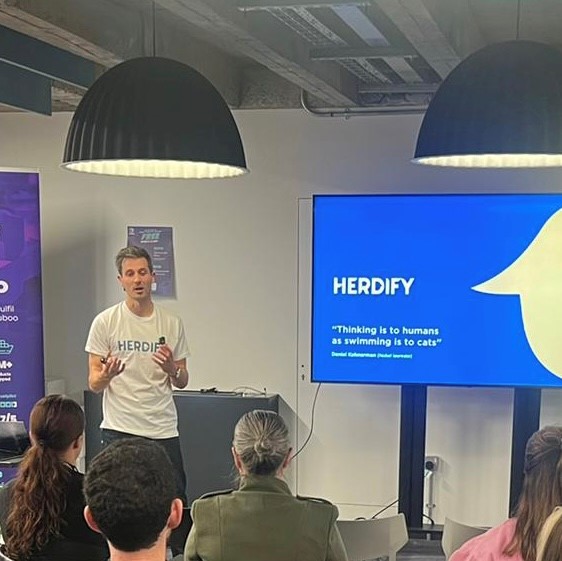 Referring back to our three ecommerce marketer problems of the moment (CAC, competition and declining ROAS), it means that a customer converts quicker and more cheaply, and puts a brand ahead of the competition by helping them to target the customers most likely to buy their product.
To win this award would be recognition of the work that we are doing to help our customers solve very real problems, and problems that are only going to intensify in the current economic headwinds. Plus, who doesn't love an opportunity to meet with industry colleagues and celebrate collective successes?!
Website | LinkedIn | YouTube | Twitter | Facebook | Instagram