Master of Malt started off in 1985 as an independent whisky bottler selling single malts from the world's best distilleries by mail order and in a small store, first moving online in the early 2000s. By 2010 the current directors were at the helm and a new website – completely coded from scratch to allow us all the flexibility and features we craved – was launched. The move to dedicated eCommerce was complete, and we've never looked back! The Master of Malt website today is better than ever thanks to our relentless focus on improving our technology and service, all heading towards one mission: to shorten the distance to amazing drinks experiences, and create unexpected delight as we help people explore, buy, and enjoy drinks more.
We've hit major milestones as well as bumps in the road over the years, most recently COVID-19. These were incredibly challenging times for everybody, and we worked extremely hard to safely meet record-smashing demand and the needs of new customers as they turned to online shopping. As we return to increasing normality, we've successfully retained the majority of this business by staying true to our mission, while also increasing profitability.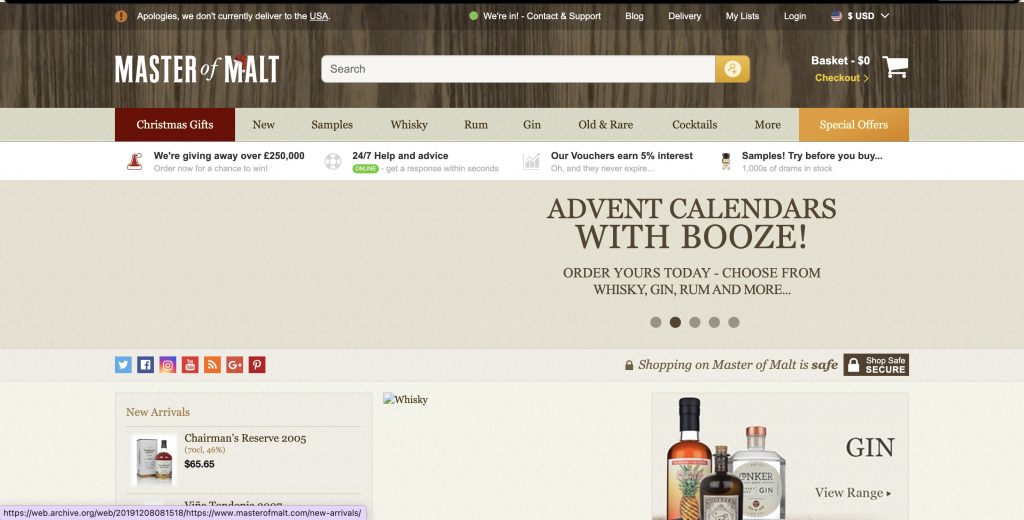 The Master of Malt site came on leaps and bounds over the previous year. A complete overhaul came into effect – with further updates since we submitted our award entry! – so we can continue to deliver nothing but the best customer-centred online shopping experience. Gone are outdated wood-look designs as we head in a more modern direction, with our UX, Dev, and Design teams working tirelessly to bring this to life. We've enhanced the experience across a range of different page types, making them more visually engaging and intuitive, aiding browsing, exploration and discovery.
And explore customers can, because we currently have over 3,500 whiskies, over 3,000 gins, and thousands more spirits in stock! These range from high-end luxury bottles to those on our Flash Sale pages and 30ml sample-sized 'drams', meaning all budgets are covered. This is combined with our informal, educational product descriptions, blog features, campaigns, creative photography and social media content that users love.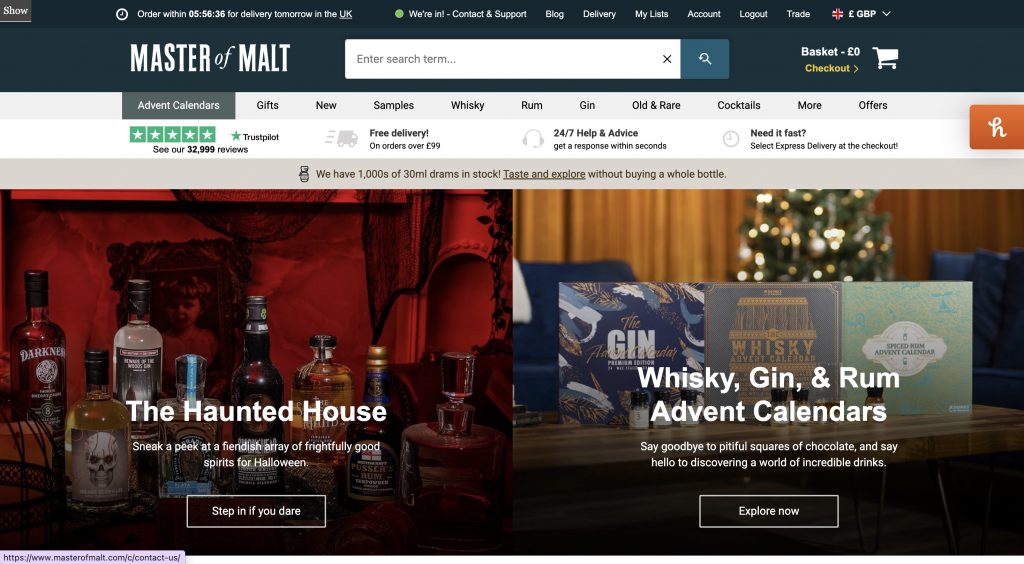 Every single one of our teams have worked incredibly hard over the last year, from fulfilment teams tirelessly picking and packing orders in record time, to our UX, Dev, and Design teams giving the Master of Malt website a brand new feel, and our marketing and buying teams working with brands, building campaigns, and pushing all we do out into the world. But there's no use in making everything beautiful and shiny if nobody is there to see and use it. What's most important to us is customer delight, and our glowing customer testimonials mean so much to us across the company.
To have all of what we strive to achieve also confirmed by winning Food & Drink eCommerce Website of the Year would be the cherry on the cake! The UK eCommerce Awards, judged by industry experts and with a very high calibre of entries, is always something we look for in the calendar.
Website | Instagram | Twitter | LinkedIn