Don't Panic are delighted to be partnering with headline sponsors Klaviyo to bring you the UK & European eCommerce 2022 Awards.
Klaviyo is a unified customer platform that gives online brands direct ownership of their consumer data and interactions through channels like email and SMS. As part of Klaviyo's mission to put ownership in the hands of brands—not third-party technology—Klaviyo is honoured to support the ecommerce industry through recognitions like the UK eCommerce Awards.
By tailoring their platform to the ecommerce industry, Klaviyo offers brands more relevant customer data they need to make memorable online shopping experiences. With more than 250 native integrations, that data is easy to use to automate personalised email and SMS communications that make customers feel seen.
Why brands use Klaviyo
Klaviyo makes it easy—no need to start from scratch, piece together multiple platforms, or rely on third-party marketplaces and ad networks. Here are some of customers' favourite features:
This-minute integrations
Klaviyo seamlessly connects to your online store and other tools—with just a few clicks. From then on, your customer data is always on hand, updated in real time.
"With our WooCommerce integration, automated series like abandoned cart emails are super easy to make," explains John Pagni, ecommerce assistant for Wilkinson Sword, an Edgewell brand.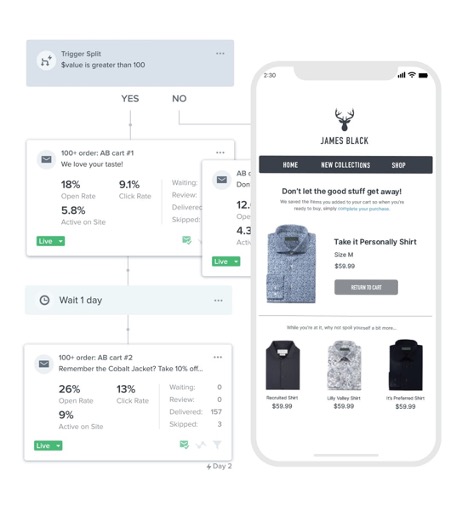 Ready-today templates
Start with a library of data-proven templates built for online brands. Incorporate your brand colors and images, and you're ready to go.
"Without Klaviyo, we wouldn't have been able to reach our customers and personalize the content we're sending them. It's meant we're in touch with the customer from day one and throughout their journey, whether they're a subscriber, a repeat customer, or they place a one-time order," shares Frankie Cooke, Brand Coordinator at Grind.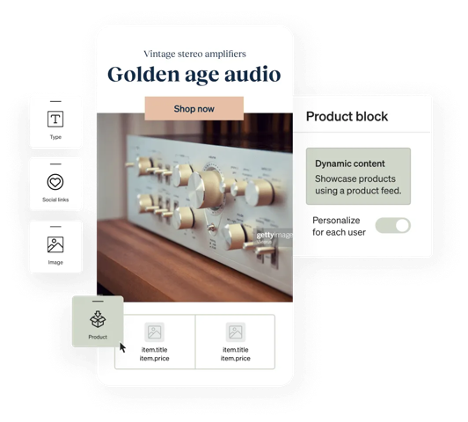 Already-optimised automations
Dozens of built-in automations are fully customisable. Each can have any mix of emails and texts. So while you're dreaming up your next big idea, customers are automatically getting timely, actionable info.
"Klaviyo offers data to understand and personalize our customers' experiences—and since all data stored in Klaviyo requires explicit user consent, we don't have to stress about compliance, which makes using that data easier," says Alexandre Ali, Co-Founder at Panda Tea.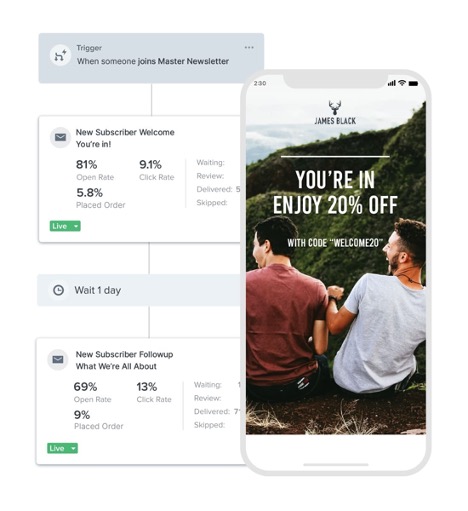 Ever-improving performance
Benchmarks show you what to improve and how. Predictive analytics helps you read customers' minds. Your marketing becomes smarter than ever and keeps getting smarter with time.
"With the benchmarks we get in Klaviyo, we can see how we compare to other brands in our industry. This helps us understand exactly where we need to improve and when there's a lot of room for improvement," says Ivan Monells, Co-Founder at Brava Fabrics.
Ready to own your data and growth?
From start-ups to established companies, innovative brands like Wilkinson Sword UK, Grind, 111Skin, Heist Studios, Dermalogica and more than 90K other paying users leverage Klaviyo to acquire, engage, and retain customers—and grow on their own terms.
Want to learn more? Download this guide to learn more about how these 5 UK brands use Klaviyo to drive growth, even amid data privacy changes across Europe.
Ready to drive more revenue? Sign up for a free Klaviyo account.