2021 was a brilliant year for award success and nominations for Shipster. We were finalists (and winners!) for four different award bodies, including the UK eCommerce Awards.
Although the nominations were enough of an achievement, we were ecstatic to win silver in the 'eCommerce Software of the Year' category via the UK eCommerce Awards, as well as win 'Systems Integrator of the Year' at the Digital City Awards.
How we've grown since the awards
Since our success at the awards, we've seen growth within the company, not only from a team standpoint, but also from gaining new clients. The Shipster team has almost doubled in size – and we're now 13 members strong. This means more capacity to bring on exciting clients and larger tasks, as well as ensuring our previous team members are supported.
This team growth has meant expanding to a larger office, taking up the top floor in a Grade II listed building in Manchester's Albert Square – Lloyds House. Ironically, the original use of the building was for The Manchester Shipping and Packing Company – Manchester's first purpose-built packing warehouse. Its history runs deep and we're happy to bring it back to its roots.
We've also successfully secured a six-figure investment from Fearless Adventures, founded by David Newns, Dominic McGregor, and Charlie Yates. This financial injection is allowing us to expand into new markets and develop our software even further. More investment means more opportunities, allowing us to provide our clients with an even better, seamless shipping journey.
What the awards meant to us
We couldn't write this section without a brief mention of the pandemic and Brexit. Both of these events affected the shipping industry profoundly, which had a knock-on effect on our clients and own staff who were busier than ever.The awards allowed us to showcase all the hard work the team achieved over the last few years – and gave us an opportunity to let loose at in-person award ceremonies.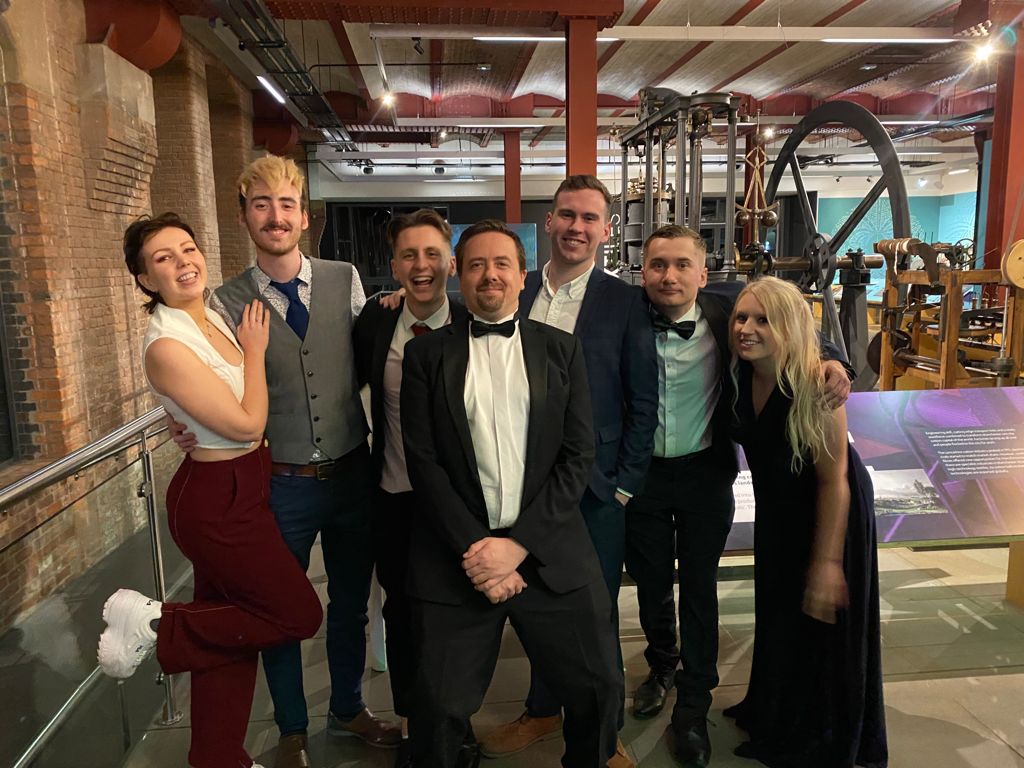 Aside from giving the team a great boost after a couple of pretty heavy years, the awards and nominations have also allowed us to highlight the quality of our work, reaching new audiences and growing our client list.
We've been able to remind ourselves – and our clients, both old and new – of what we've accomplished so far, boosting our confidence in our business and product. It's also fantastic motivation for the years to come, making us want to continue entering, attending, and ultimately winning awards.
Tony Cheetham, Founder & MD at Shipster, said: "Although awards aren't everything, it's a fantastic achievement and helps us to recognise the hard work and dedication of the team. We're also extremely proud to be nominated next to so many great names in tech."
Shipster Marketing Director, Hayley Cowburn, said: "I'm so proud of the team for the hard work and dedication they've put into Shipster – and continue to do so. Being recognised with awards is a fantastic achievement and we can't wait to see what happens in the future with further nominations."
Client Services Director, Damian Donnelly, commented: "Our focus is always on our colleagues and clients, so anything more than that is a massive bonus. Recognition is greatly appreciated and we can continue to call ourselves an award-winning software company!"
Bookkeeper, Amanda Hosking, noted: "Getting nominated for several awards in one year was exciting news for the Shipster team and recognises the hard work everyone has put in over the years. It was great to celebrate the wins with the team – even if this was over Zoom in the pandemic days!"
Support Technician, Alex Downie said "Watching the company grow so quickly over the years and receiving so many nominations has been such a rewarding experience. It has shown how much effort every member of Shipster has put in to get the business where it is today. I'm very proud of all my coworkers and hopefully we see further awards in the future!"
Author: Hayley Cowburn, Marketing Director, Shipster