We set out to build a marketplace for 'Craft Beer', a platform from the ground-up that solved the problems time-poor brewers faced getting beers listed and promoted to customers, and as beer drinkers we wanted to build the 'willy wonka chocolate factory' of beer – where we could discover and buy beers from independent craft brewers .
Winning the 'Ecommerce Startup Website of the Year' at the UK Ecommerce Awards 2023 is a massive achievement that validates our efforts to date. But we're just getting started!
About Tap Door: A Craft Beer Marketplace
Literally born in a pub and sketched out on the back of a beer mat, our vision was to build a platform dedicated to craft beer that solved the challenges and issues faced by time-poor brewers to manage their D2C online operations. Tap Door as a platform needed to built from the ground up, and this is why it was built on the T.A.L.L. stack. An innovative tech blend – encompassing Tailwind CSS, Alpine.js, Laravel, and Livewire – has allowed us to create an intuitive, agile, and user-focused platform that is 'built for purpose' and without the bloat. Our award-nominated work focuses on simplifying the user journey (for brewer and customer), providing detailed product information, and ensuring a seamless checkout process – all designed to make the purchase of craft beer as enjoyable as the drinking experience itself.
Celebrating a Milestone Achievement
The UK Ecommerce Awards recognition isn't just a win for us; it's a nod to the craft beer community and a testament to the digital strides made within the ecommerce sector. "Securing this award has been a validation of our team's hard work and the innovative spirit of Tap Door. It's a momentous accolade that motivates us to continue redefining the craft beer shopping experience," shares Ollie Hunt, our Co-Founder and Managing Director.
What This Means for Our Team and Future
For our dedicated team, this award is a catalyst for future innovation. It reinforces our mission to evolve and enhance the Tap Door experience continually. Looking ahead, we're set on expanding our beer selection, incorporating user feedback into new features, and utilizing data-driven insights to personalize the shopping journey.
The future holds exciting plans for sustainability initiatives, community-building events, and partnerships with leading craft breweries – all with the aim of solidifying Tap Door's place as the premier craft beer marketplace.
Testimonials and Reflections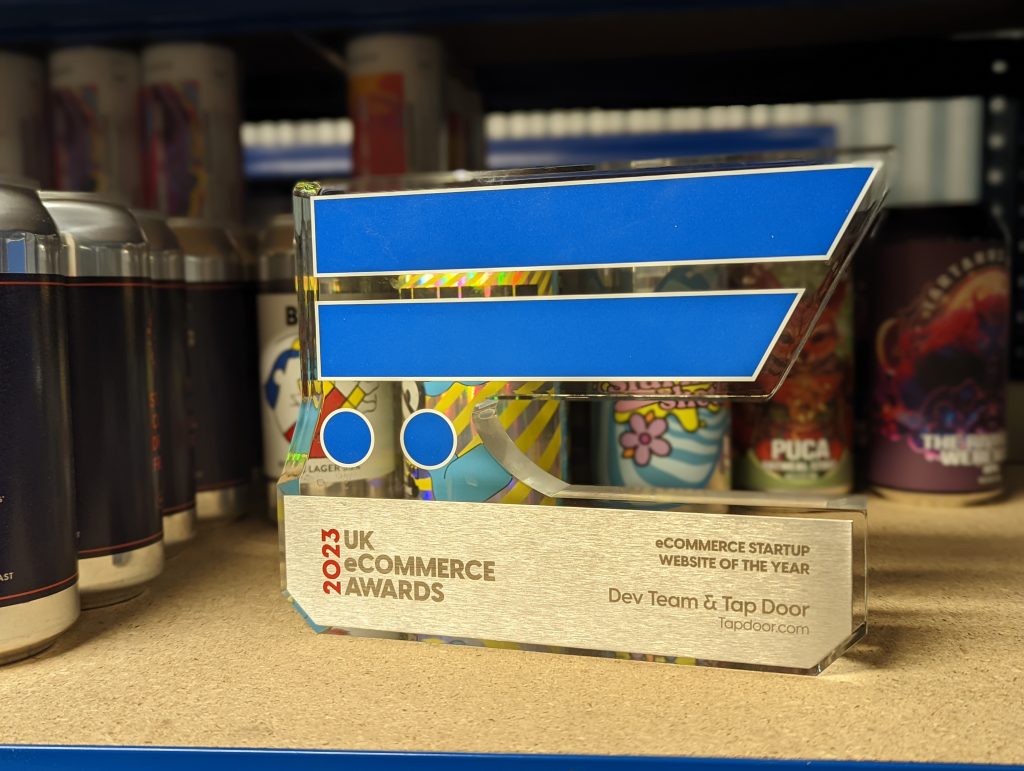 "Winning at the UK Ecommerce Awards is a milestone that marks the start of the next chapter in our story. It's been an exhilarating journey, and this award is a tribute to the hard work and creativity of our team." – Ollie Hunt, Co-Founder/MD @ Tap Door
"From the user interface to the final click to purchase, every detail was crafted with our users in mind. This award is a celebration of that user-centric approach and a challenge for us to raise the bar even higher." – Brad Simms, Head of Digital @ Dev Team
Join Our Journey
While we celebrate this achievement, we want to extend our gratitude to the UK Ecommerce Awards and the judges for the recognition. For those beer lovers out there check out the Tap Door community at tapdoor.com. Follow our journey and share in our love for craft beer on Instagram.
Cheers to Dev Team: Our Partners in Innovation
Behind every great venture stands a formidable technology partner. For Tap Door, Dev Team hasn't just been a development partner; they've been the architects of our digital landscape. Their expertise in navigating the T.A.L.L. stack has been instrumental in bringing our vision for a seamless craft beer marketplace to life. The success of Tap Door owes much to their dedication to excellence, their commitment to a collaborative process, and their innovative solutions that have consistently pushed the boundaries of what can be achieved.
Dev Team's role in the Tap Door project went beyond execution. They were collaborators in every sense, deeply engaged with our mission and values. Their insights and technical prowess helped us to navigate the complex challenges of creating a sophisticated eCommerce platform. From ensuring that our site's performance was lightning-fast to implementing features that made the user experience intuitive and enjoyable, Dev Team has been an integral part of our journey.
Their work on the Tap Door project is an example of how a synergistic partnership between a tech firm and a startup can result in award-winning outcomes. We're proud to have had Dev Team by our side, and we share this accolade with them, for without their passion and skill, Tap Door would not be the industry benchmark it is today.