About Rainy City Agency
Founded in 2017 with the vision of helping e-commerce brands grow, Rainy City Agency has helped some of the world's top e-commerce brands scale through Shopify design and development.
Rainy City has worked with some of the world's leading brands on Shopify Plus,  specialising in providing creative, high-performing websites from health and beauty to fashion and accessories, with a key focus on ensuring they convert and that their customers get an innovative experience through our forward-thinking engineering.
Rainy City Agency has experienced significant growth over the past few years. In just a short time, they've been announced as Shopify Experts, official Shopify Plus Partners and more recently reached the finals for the European Health & Well Being E-commerce website of the year.
Health and Beauty Shopify Plus Design & Development
Renowned hair care brand Lee Stafford approached us to replatform their e-commerce store over to Shopify Plus. The complex migration saw us transfer 60,000 customer profiles and over 1,000 URL redirects.
Along with the migration we worked with Lee Stafford on their branding facelift and implemented innovative UX strategies.
Our bespoke theme development and Klaviyo email flows helped sync branding across all marketing channels, offering Lee Stafford's customers a truly immersive experience.
Whilst we were working on the project we had to time our design and development with Lee Stafford's rebranding process. This meant we had to make sure deadlines were being met and matched up with the running product launches and promotions.
We also developed a bespoke SAP solution to allow for streamlined product fulfilment.
We pride ourselves on being a proactive partnership with the brands we work with, our goal is to help brands unlock the potential of their website through Shopify Plus' bespoke features and look for opportunities in the market. Some of the project highlights are:
Sophisticated cross-sell
Bundle Builder
Loyalty Points & Rewards
Bespoke customer features 'Find Your Look'
Subscriptions
Frequently Bought With
Product Comparison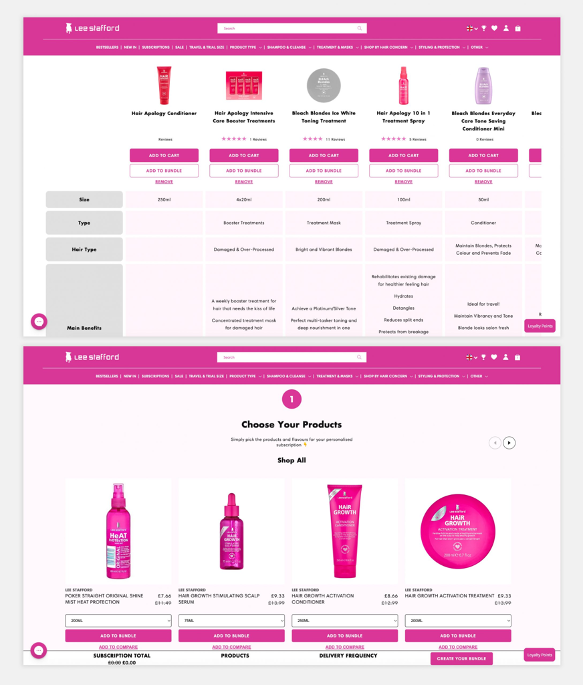 Increasing Conversions on Shopify
Improved Purchasing Experiences – We developed a product comparison tool which allowed users to compare product benefits within the PDPs. Adding subscription-based purchasing, on both the PDP level and a dedicated bundle builder page, offers users multiple routes to purchase and subscribe.
Global Commerce – Lee Stafford was launched exclusively in Boots in the UK and is still sold there today. The brand continues to grow and is now available in over 30 countries across the world including Germany, Brazil and the USA.
While Lee Stafford items are accessible through the company's new online store, we developed a 'Where to Buy' function to assist clients in other locations in locating a retailer that sells Lee Stafford products.
Product Comparison – Another feature we were thrilled to offer was the ability to compare products on individual product pages. This encourages shoppers to discover new things on the Lee Stafford website while they shop.
Frequently Bought Together – Another important feature we developed was the 'Frequently Bought With' section, which adds an extra degree of personalisation to a customer's basket, allowing product discovery and assisting in the conversion of one-time purchases into lifetime consumers.
A word from the Rainy City team on being nominated:
We're so excited to be shortlisted for this award at the UK eCommerce Awards, we are going against some huge brands for this award and even to get to this stage means the world to us. It's an exciting time in eCommerce and everytime we're able to develop and build something new is a major win for the team.
Having the accreditation that our work is a finalist in these awards backs everything we promote about ourselves in being top of our game in Shopify and Health & Beauty.
We're proud to have worked with some of the world's top eCommerce brands and household names. Our agency is built on 3 pillars – Trust, Communication and Reliability and we think this sets us apart from others, we treat each brand as if it were our own and genuinely care about the results we generate.
To stay up to date on all things Rainy City – check out our Facebook, Instagram & LinkedIn!